A database is a group of information that is arranged in a systematic manner. As it is arranged in a systematic manner it can be updated, managed, and accessed. In order to group the data in a logical and realistic manner, there are many models and frameworks present. Some of which are object-oriented and relational databases. In general, information in the database can be divided into different types like numeric, images, and full text. In simple words, a database is a group of tables that contains columns and rows like a Microsoft Excel sheet that includes grids.
Mainly the use of databases is done by online businesses for managing their business functions that contain data. In other words, a database can be defined as a library where the books are kept in a logical manner. Database management systems (DBMS) is considered one of the most exciting subjects that offer a range of career options. In the DBMS course, a student gets to know different operations that are done by database servers. To improve the knowledge of students the professors of colleges and universities provide them with database assignment writing.
With this students who have a good understanding of the subject complete the assignments on their own. As we all know all students are not the same and are a case of doing database assignments is not an easy task to conduct. Sometimes due to a lack of knowledge and skills or sometimes due to lack of time, students find it difficult to complete their DBMS assignment on time and look for online database management system assignment help.
Types of the Database Management Systems
There are four types of database management systems and they are as follows:
Network Model
In the network database management system, the data elements have one to one to one or many-to-many relationships. In this, it is allowed to have multiple parents for a record of one child. With this, the structure of it is a hierarchy but data is arranged like graphs.
Hierarchical Model
In this model, the data is arranged like a tree structure i.e. the data is stored top-down or bottom-down format. The data is shown by using a child-parent relationship. In this DBMS model, parents have more than one child but children have one parent.
Object-oriented Model
In this DBMS model, the data is kept in the form of objects. The structure of it is known as classes which represent the data. It is one of the most used modules of DMBS that describes the database as a group of objects that kept both values and operations.
Relational Model
It is one of the easiest and most used DBMS models. In this, the data is arranged in columns and rows of tables. The model is stored fixed structure and can be manipulated.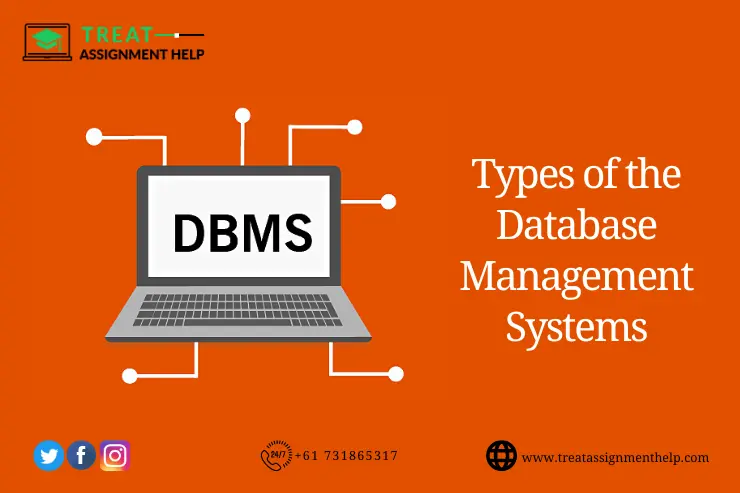 How do online assignment writing services help students with their database assignments?
As online academic writing services have professional writers in their teams with their knowledge and experience help students in the following ways:
Structuring the database assignment
The most important thing while writing academic assignments is taking care of the structure of data. As the writers in the academic services have many years of experience in academic writing they know how to structure the data well enough which helps them get good marks in academics. So students who don't know how to structure the data can take data structure writing help from professionals.
Original content with proper solutions
The assignment writing experts with their knowledge and experience provide the students with quality work no matter how difficult the topic is. With this, the practical questions are provided with proper solutions that are easily understandable to any student. With this, they also provide services like programming language writing help, SQL programming help, etc. to students.
Reviewing the complete project for accuracy
When doing the database management assignment, doing small errors can make the complete assignment screw up. That's when the academic writers come into the role. They carry different repetitions of the database management assignment before summiting the final assignments to you. This helps them in delivering accurate assignments to students that further help them in scoring good marks in their academics and in further studies also.
Customized database management assignment help
Online academic writing services provide customized database management assignment help to students. In this students according to their requirements can ask the expert writers to make their assignment. The writers pay full attention to the requirement of customers to provide them with database assignments according to their needs. With this, online academic writing services also provide free revision services to students.
Conclusive Statement
Doing DBMS assignment sometimes become a daunting task as it includes a collection of data, the structure of the assignment, etc. If you are also facing the same problem and looking for data assignment writing services online contact Treat Assignment Help Australia and get the best academic services.
FAQ
What is the fee for an online database management system assignment help from experts?
The fee for online database management system assignment help from experts depends on the requirements of the assignments, their level of complexity, topic and deadline. With this for the urgent need of assignment, the online writing services charge an extra fee.
Is online writing services provide several database assignments help?
Yes, as the online writing services have experienced and professional writers in their team that help them in providing several database assignments help with unique and quality content that helps students in achieving good marks in their assignments.