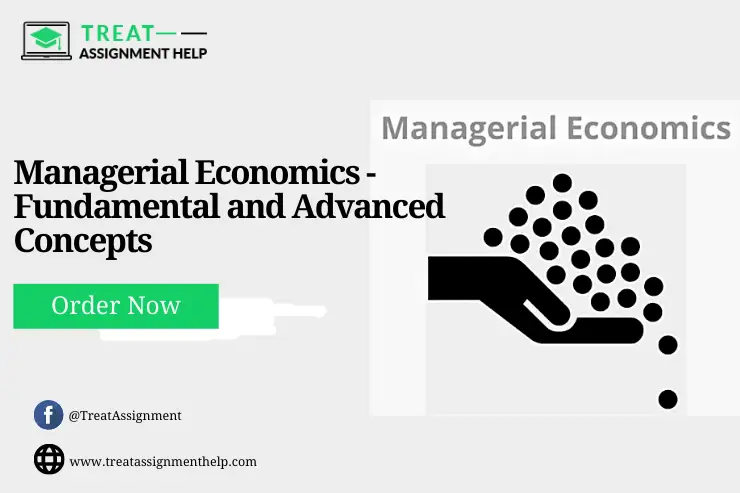 MBA students need to gain a better understanding related to the functions of business management. Various theoretical concepts and models help students to enhance their skills and increase job opportunities. Managerial economics is an important topic that students have to understand so that they can easily complete their projects or assignments successfully. If they still face any problems in completing assignments they may contact MBA Assignment Help. Managerial economics helps to focus on problem-solving and decision-making processes for the business. This help to enhance the decision-making process in some areas including marketing, production planning, management of the human resource, and financial management. It is a great concern how economic tools and concepts are used by managers to make effective decisions for the business.
What is Managerial Economics?
Managerial economics is used to apply principles and economic theory to make decisions better for business. It helps to support the decisions of managers for increasing the profitability and efficiency of the organization. Managerial economics is important for understanding all market forces including production costs and demand curves, strategies of pricing, forecasting methods, and policies of resource allocation for making better and informed decisions for financial management. It also uses some econometric techniques for testing hypotheses, forecast conditions of future markets, and estimating demand. Online Management Assignment services help students if they want to learn more about this topic for their assignments or dissertations.
Principle and advanced concepts of Managerial Economics
Students can get top-quality assignments from MBA Assignment Help related to this topic. They have experienced writers that provide assignments plagiarism free. There are various principles and concepts related to managerial economics used for making business decisions effectively.
Incremental Principle: It is an important concept used in managerial economics. In this concept, decision-makers need to select an option that can always provide incremental benefits. This is an important principle to make decisions related to investments and long-term projects.

Opportunity Cost Principle: In this principle, decisions made are based mainly on effort and time opportunity cost. This can be used in various situations of decision-making including production, resource allocation, and investment decisions.

Discounting Principle: In this principle, when any decision involves payments or money receipts over a time period all transactions of money will be valued for analysis of the decision. This is used in finance and business extensively.

Marginal Principle: Through this concept, businesses can make decisions effectively by considering each marginal cost and marginal benefits option. This concept can be used to make decisions for various businesses from pricing and production to financing and investment decisions.

Time Perspective: It is a fundamental principle that states that the decisions of each individual are mainly influenced by time perceptions. It dictates that each individual can make their decisions depending on their prospects, past experiences, and present situation.

Equi-Marginal Principle: It is the principle that is used to shape the process of making decisions. For maximizing utility, satisfaction, or happiness, decision-makers need to allocate all their resources properly.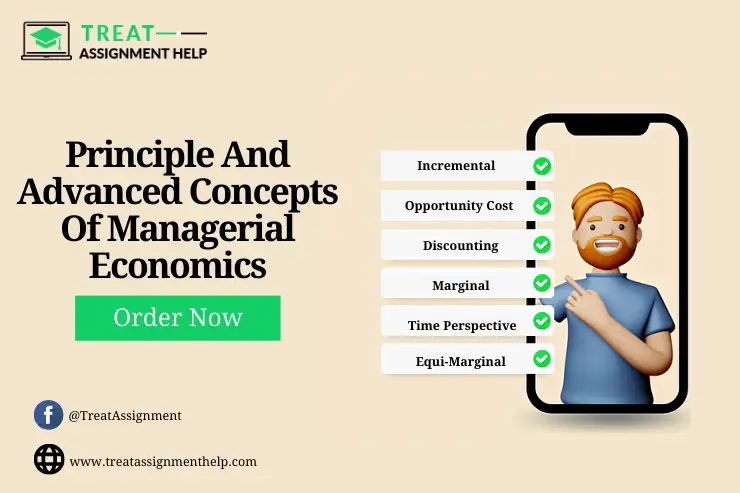 Scope of Managerial Economics
Capital Management: To get success in the business, the most critical factor is managing capital or money. Capital management is making decisions effectively that ensure the financial health of the company. Here, financing and investment are two important aspects of capital management.

Production and cost analysis: The analysis of production and cost in managerial economics will study how any business can decide how, who, and what to produce. It also helps managers to understand the minimizing costs and optimize resources while meeting the demands of the customer.

Profit Management: Managerial economists mainly use quantitative methods and economic theory to help their managers for making decisions effectively to get the best interests and profits.

Forecast and demand analysis: Managerial economics is also used for analyzing decisions of business and also helps managers to make choices better. The main goal is to make use of economic tools and theory for effective and efficient business decisions. It involves analyzing demand for services and goods and consumer behavior to determine effective marketing and pricing strategies.

Pricing decisions and strategies: In this, all factors that create impact pricing decisions will be analyzed like competition, consumer behavior, production costs, demand, and supply. It involves developing strategies of pricing that help to maximize profits for business while considering all impacts created on consumers.

Market structures: In this, different structures of the market will be analyzed like monopolistic competition, monopoly, perfect competition, and oligopoly. It also analyzes the impact market structures created on production, market efficiency, and pricing.
Marketing assignment help experts offer you a wide range of solutions for your assignments free of plagiarism. You can contact them if you want to deliver your assignment on time and get high scores in academics.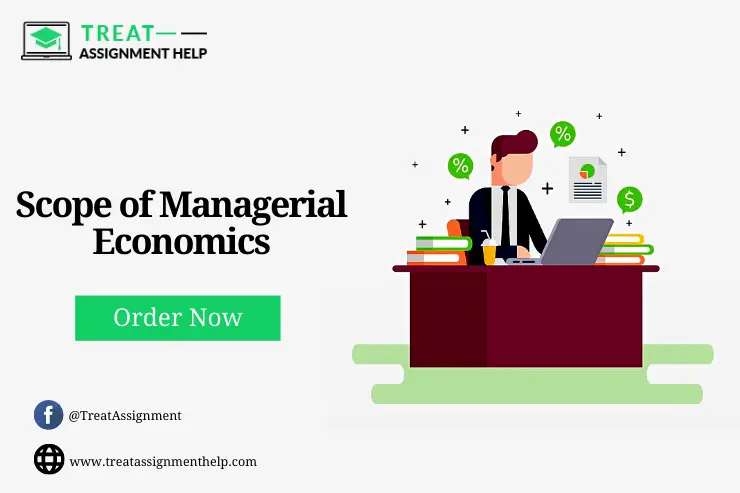 Conclusion
Managerial economics helps to achieve some valuable insights for decision-makers and businesses and helps organizations to improve competition, maximize profits and increase efficiency. To complete assignments on this topic successfully contact MBA Essay Help which provides services similar to Treat AU.
FAQ
Q1. How managerial economic plays important role in the management of the business?
Ans. Managerial economics plays important role in managing the business effectively. It also facilitates coordination, decision-making, demand projections, planning, production analysis, capital management, cost control, profit management, and cost analysis.
Q2. What are some characteristics related to managerial economics?
Ans. Some characteristics are:
Practical
Conceptual
Microeconomics
Normative
Goal-oriented
Metrical approach
Multidisciplinary
Management Oriented
Dynamic
Prescriptive discipline
Q3. How I can get help with assignments or projects?
Ans. You may contact Marketing Dissertation Help for your projects or assignments. They have experienced experts who provide you best services and also help to complete the assignment at affordable rates.